So I completely forgot about this post last month until it was way too late to fit it in with everything else that I had scheduled. My apologies. I hope that February has gotten off to a great start for everyone.
Top Commenters
My commenter base has been amazing the past few weeks. I especially appreciate all of the feedback that I've gotten about my new goals for 2013 and my recent photography. If you've left me one or more of those comments, thank you! Interaction with readers is one of the things that keeps me posting here every week. Thanks to Ann of
Ann's Snap Edit Scrap
and Jamie of
Crafter on a Budget
for stopping by and commenting regularly! Check out goodies from some of my other top commenters who are selling their handmade items online.
1)
PATTERN - Crocheted fingerless gloves with flower
by
JNOriginals
2)
Jewelry bracelet kit - Turquoise & hand-rolled paper beads
by
storybeader
3)
Baby Shower Guest Book - Personalized Baby Buggy Stroller Design
by
memoriesforlifesb
4)
Blue Kerosine Lantern Earrings Retro Hypoallergenic
by
StalkingTheWildSnark
5)
Shabby chic cottage style eyemask. Chambray Rose. Blue
by
PeriDotbyDuni
6)
Sky Blue Crystal Sterling Silver Earrings
by
BeadedTail
7)
Red Rose With Water Droplets Greeting Card
by
Cyndi Calhoun
8)
Buckskin Mare Dale Evans Horse Buttermilk 5x7 inch print of original watercolor painting
by
tapestry316
Blog Sponsors and February Advertising
I have an awesome round up of blog sponsors! These lovely ladies all have Etsy shops and/or blogs. Check them out on the left hand side of my blog under "Private Sponsors." I have to give a shout out to my newest sponsor, Tiffany of
MaddieBsBoutique
. She sells hair bows and other adorable goodies.
Would you like to join the private sponsors? It's only
$3 per month or $10 for 4 months
to advertise with me. Check out all of the details about it
right here
.
Out With the Old Sale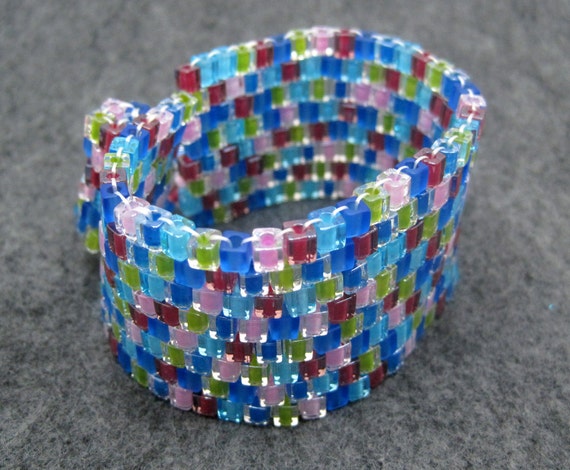 I brought back my
Out With the Old sale
this year for the beginning of 2013. There are a number of older pieces in my shop that I would really like to clear out forever to get my shop more streamlined and reflective of my current lines. Take advantage of these amazing deals while you can
right here
.
My Christmas HubPages traffic way exceeded my expectations this year. As I've mentioned before, last year I had

ridiculously good

Valentine's Day traffic. It hasn't been ridiculous

this year thus far, but it's been very solid

. I'm hoping the momentum will keep up and I can keep some steady holiday traffic going through Easter like I did last year. I had a great January publishing there with 10 new articles and hope to maintain a minimum of once a wee

k publishing through February.

Client work

was a little slow around the holidays, but things are more or less back on track now. My regular client base has shifted a little this past month. However, I continue to get regular assignments coming in from familiar clients, which is great.

My first two shows for 2013 are going to be in early March and late April. It's hard to believe that first one is only a little more than a month away. I have a number of

craft fair related tasks to complete before then.

Those of you who know me outside of this blog know that my social life has kind of exploded since September, which has been pretty amazing. It's great to have things going on just about every single week.

It's also really nice to be back in the swing of things with the holidays done.

It is frustrating not to get outside and take pictures very often this time of year, but I'm determined to make use of every single warmer

day that we get through the end of the winter

.



What's going on with your business and/or blog for February?
Where I Linked Up Today: