It's been more than five months since I put together my
last post
about custom orders. I'm excited to show you the pieces that I've made per special request this winter and spring.
This winter I got a request to make matching earrings for this fringed bracelet that I made quite a while back.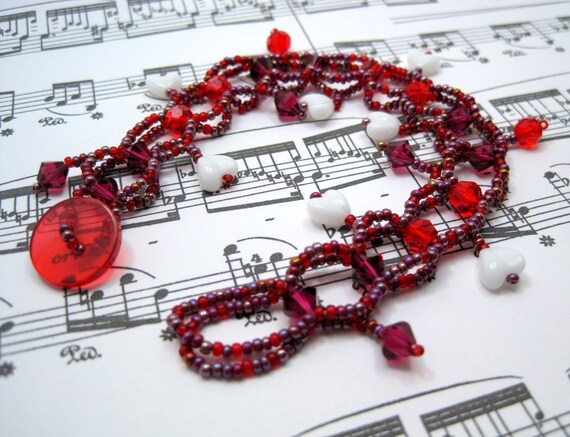 I get a lot of questions about why I don't make matching earrings for all of my bracelets. The truth is that it's hard to know what designs and color palettes will do well and what kind of earrings people will want with them. In many cases, it is easier to make an occasional pair that a customer works with me to design. For example, this customer wanted sterling silver earwire. Even if I had made a pair back when I made the bracelet, I still would have ended up making another pair for her.
I love the final result for this design. There are so many possibilities for it with different color palettes and different beads. Of course I love the hearts, but there is no reason that I would have to limit it to hearts.
I get a number of requests for re-makes of older pieces. In some cases (including this one), they are for pieces that I sold as far back as three or four years ago. I can't imagine that most people are scrolling through my sold items. I think that most of the ideas come from favorited items on Etsy, my
Flickr photostream
, and Pinterest pins.
Since this request was from an older piece, I made it old school style like the original without any beads or tiny buttons. I would love to keep this design in stock, but brown is not the most popular button color. There is an abundance of white buttons out there but not nearly as many brown or black.
One of the many reasons that I enjoy custom orders is that I get great suggestions that I never would have thought of on my own. Turquoise blue, yellow, white, and brown is a fabulous color combination that I wouldn't have put together myself. The customer wanted earrings that coordinated with another jewelry piece that she already owned.
I completed this order a couple months ago, but I finally got my act together and got a pair
listed
in my shop this week.
I put together a big custom set this spring for the same lady who ordered the heart earrings. Her late step-mother left behind a sizable collection of buttons, and she wanted to keep them in the family. I made a bracelet and a pair of earrings for each of these four color palettes.
Finally, some of the custom requests that I get are as simple as a different kind of earwire or slight change in color palette. The customer picked out these earwires, and I made a very minor change to the original design to decrease the length slightly.
As always, if you ever have an idea for a custom piece based on something that you saw here or in
my jewelry shop
or that fits your interests / personality / tastes, don't hesitate to contact me. I love custom orders!
Have you been working on any custom orders lately?