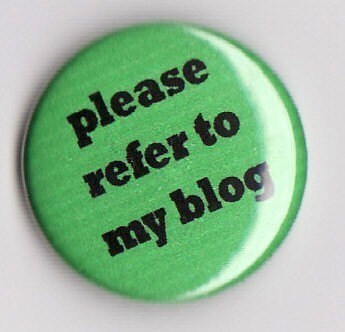 I decided to switch it up today and post a top 10 list. I hope it's not a surprise that I love blogging. One of the best parts about the blogging community is that almost everyone is a part of it simply because they love to blog. I enjoy reading a variety of blogs every day and feel fortunate to have met a lot of really great people through blogging over the years. However, there are still a handful of things that I encounter in the blogging world on a regular basis that drive me up the wall. I'm sure that some of you will appreciate at least a few of these sentiments.
1. Lack of Posting:
No, I'm not talking about people who only blog 1-2 times per week. That's fine. I'm also not talking about people who simply take a break sometimes and then return to a blog. I'm talking about the people who post once a month or less and still promote their blogs all the time. If you use the Entrecard network, I'm sure that you know what I mean. Even if you make money on ad impressions, the traffic you generate with a blog like that can't possibly justify the time spent on promo because there simply isn't enough content to keep people from coming back every day or even every week.
2. Lack of Content:
You don't have to write long, wordy posts to have meaningful content. There are several blogs I follow that mostly post pictures, but I get so much inspiration out of their photos. I'm talking about blogs that only have short posts about new Etsy listings, single treasury features with no write ups, Etsy features with 2-3 items, etc. If you're going to blog, give people something worth reading.
3. It's All About Me:
This is always a funny topic with blogging because clearly much of your blog is going to be about yourself. However, there are people who strictly use their blogs to promote their own products, link ups, voting on other sites, etc. It is fine to do this in moderation. Obviously I do. However, I spend a lot of time promoting other people's listings, blog posts, articles, other resources, etc. as well as giveaways, treasuries, and more. There are lots of ways to express things about yourself such as your current mood, color preferences, etc. through promotion.
4. Not Taking the Time to Comment:
This is one of my biggest personal frustrations, largely because I do make the effort to leave a lot of blog comments. It's gotten to the point that I don't leave comments for bloggers who have never commented on my blog in the past year, even if I really like their content. I know that commenting takes a lot of time and effort, particularly if you have a successful blog. However, it's such a great way to show appreciation as well as network. When I see popular link ups with 100 links and 4 comments, I get upset. Similarly, when I link up somewhere every week and don't ever receive comments from the link up host or any other participants, I get upset. One of the biggest reasons that I love Scavenger Hunt Sunday is that Ashley is a fantastic host, and I frequently get hits and comments from other participants.
5. Not Spreading the Love:
This goes back to the it's all about me issue. One of the best ways to get ahead in life is to pay it forward. If you want to get linked on other blogs, start linking people on your blog and letting them know. I have gotten a significant number of new followers through my Friday Feature posts. It always makes my day when people are really excited to see their work here. Even posting 4-5 items from other shops on your blog every week can make a big difference.
6. The One Long Paragraph Posting Format:
I actually see this more on HubPages these days than on blogs. This is pretty self-explanatory. Even if you're writing a personal narrative or other content that doesn't necessitate tons of photos and headings, taking the time to make paragraphs and bold important words and key phrases will keep readers along for the ride.
7. Consistently Low Quality Photos:
I am the first to admit that when I started selling on Etsy and writing on this blog, I knew pretty much nothing about product photography. Check out any of my blog posts from 2008 or 2009 and you'll see what I mean. However, I have done so much these past nearly four years to improve my photography. My photos are still far from perfect, and there are always those occasion days when I want to post something right away that I can't shoot in my light box and the weather is less than perfect so my photos may not be the best. Overall, you can still see a huge improvement. This is true for most bloggers. You still see the occasion one, though, where the photos have been really bad for a long time and aren't getting better. There's really no excuse for that.
8. Generic Blog Layout:
I am not a graphic designer. My knowledge of HTML is pretty basic. I know that a lot of people don't have the time, patience, and/or expertise do design a fancy layout, which is fine. However, there are a lot of very easy, FREE options with Blogger to customize your layout. Even if you have a pretty simple blog that you don't plan to monetize, it's still worth putting in a couple hours at least once or twice a year to personalize your layout.
9. Not Giving Credit Where Credit Is Due:
Thankfully I don't come across this on blogs too often, but since this is such a big problem on Pinterest, I want to mention it. If you use any content from another person, you should cite it. It's not fair to someone else to take their work and not give them credit. It's also frustrating for your readers to find a great resource that they can't use because there's no link or reference. Take the extra seconds it requires to give credit.
10. Refusal to Turn Off Word Verification:
If you comment on blogs regularly, you know what word verification it is and how much of a pain the newest system is. I don't allow anonymous comments and don't have word verification. I get less than 1 spam comment per month. If you are really that worried about spam, turn off word verification and turn on the comment approval instead. Don't make your readers frustrated because they will simply walk away after a couple failed attempts to leave a comment. Ashley put together a
great post
a while back about how to turn off your word verification for Blogger.
Do you share any of these pet peeves and/or have other blogging pet peeves? Vent your frustration!
Newest articles:
Looking for older articles?
Click here!
Where I Linked Up Today: