There is so much going on this week that I'm fitting all of my in the works pictures and sharing some new items and other recent updates from my shop all in one post.
Remember my
red/blue button mix
? I updated the old listing with the beautiful new bracelet photos and information.
This listing
now includes a FREE pair of coordinating button dangle earrings. I absolutely love those lower red buttons. I had to include a couple of them in the bracelet, too.
This summer I was inspired by a set of red, orange, and periwinkle beads from Jen's shop.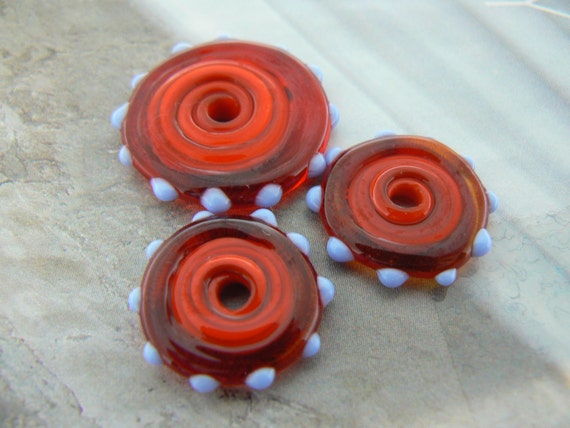 This color combination just felt like something that needed to be in my shop. And now it is.
It's available
here
. I love how this turned out. It feels very "me" for whatever that's worth. Jen makes so many beads with this amazing periwinkle shade. I never get tired of it.
Remember my fall leaf mix? The longer bracelet is now back in stock
here
.
I got inspired by making the custom leaf earrings for my craft fair custom order so I made leaf earrings to coordinate with my fall leaf bracelets. I would give you a link for them, but I already sold them! I will make another pair to coordinate with my next leaf bracelet.
Finally, for listings, after some debate, I decided to change the clasp on my
November challenge piece
to a detachable charm. I've been discussing my options for this with some of my awesome BBA teammates this week. I was hoping to use a little split ring, but I ended up using a lobster clasp. I was worried that it would stick out, but I really think that it blends pretty well. My husband was very approving of it, too. I may look at larger split rings in the future, but for now, I'm happy with the lobster clasp.
I'll have a lot more information about the detachable charms and the various options/versatility for this line when I officially release it in a couple months. For now, I'm hoping that adding this option to the listing will still help with sales.
Check out
the listing
for additional pictures.
To wrap up, here are a few pictures of new things that I've been working on this past week. While I was picking out buttons for new magnets and pins, I had a sudden inspiration to make a
Christmas button embellished bracelet
. I hadn't made a double stacked bracelet before, but why not? Here are my buttons ready for the bracelet.
I will have this bracelet as well as a few other Christmas pieces up and running in my shop before the end of this month.
Here's a peak at some of my newest button magnets and pins ready to be glued. I'm planning to bring at least two dozen pins to my November craft fair. The buttons tip really easily before they're glued so things are a little off kilter here. The finished products won't look that way!
I picked out the seed beads for three new herringbone bracelets.
1) a Christmas wrap bracelet/necklace with a detachable Christmas tree charm
2) the flower embellished wrap bracelet/necklace that I mentioned in
this post
3) my December challenge piece for the
Arabesque Style theme
They will all use some combination of these beads.
I;m actually working on the Christmas piece first as I'm trying to get all of my new Christmas pieces listed before Thanksgiving. Then I'll fit the challenge piece in this month in between other projects. The flower piece can wait for the official herringbone release so it won't be a priority at this point.