I'll be honest: I have been torn about promoting this challenge and future EBW challenges all month. I have a very minor leadership role on the team and get to participate in the discussions about moderating entries. Lately this has nearly set me over the edge. I don't know if people get some sort of power trip out of denying entries in a beading contest through Etsy or criticizing people who did win whose entries "stretched" the theme, but I sure don't. Most people on the team don't even participate in the voting process, let alone promoting the challenge for the sake of the team. I'm hanging in there for the remainder of 2012, but I think that my patience will be gone by 2013. This saddens me because the team has been a huge asset for my beadwork since I got serious about my beading in 2008, and there are a lot of talented people there. But I think that my priorities are better spent elsewhere.
With that being said, there are still many gorgeous entries for the November theme, Circles and Squares. With all of the drama going on this month and the crazy limitations that got set within this theme, I wasn't very inspired to create anything myself even though I'm a huge fan of geometric shapes.
Voting takes place on the
EBW blog
through November 15. Please check out all of the entries and vote for your favorite. If you can't see the clickable mosaic,
click here
.
Here are just a few of my favorite pieces for this challenge.
Retro chunky rainbow geometric bead embroidered statement bracelet
by
MoonsafariBeads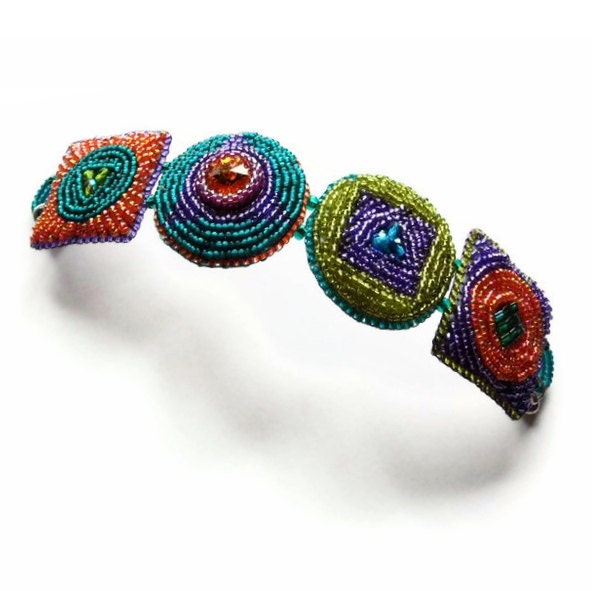 Cowboy Geometry Necklace
by
thistledew4u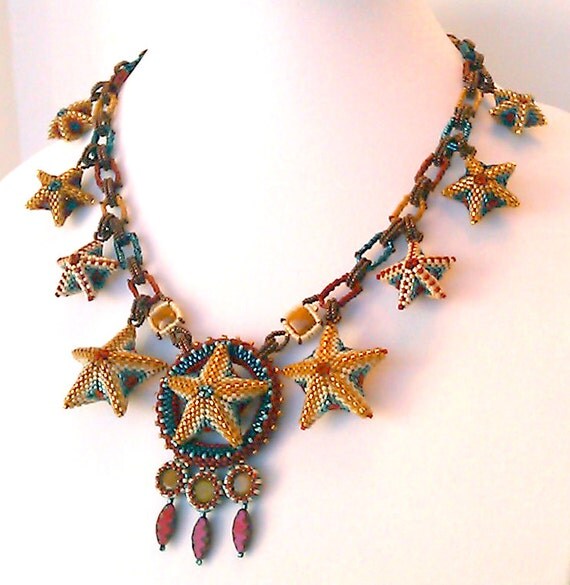 Circles and Squares Geometric Modern Beaded Bracelet in Red White and Black
by
MegansBeadedDesigns