I did not have a specific goal for the number of EBW challenges that I wanted to complete in 2011, but I am really proud of the fact that I completed 9 out of the 11 challenges this year, especially with everything that was going on this year. Among other things, it really pushed me to develop the high-end price selection for my shop, including a brand new product line and pattern for it. I'm not sure that I ever would have done this on my own, but as an artist, I think that it's important to have this high-end work as part of my repertoire. I have put a lot of hard work into these challenges this year. It's high time for a little review.
Before I get to that, here's my entry for the December EBW Challenge Arabesque Style. You can read more about this piece
right here
. It's part of my brand new line of wrap bracelets/necklaces that I will officially release next month. It's available for sale
here
.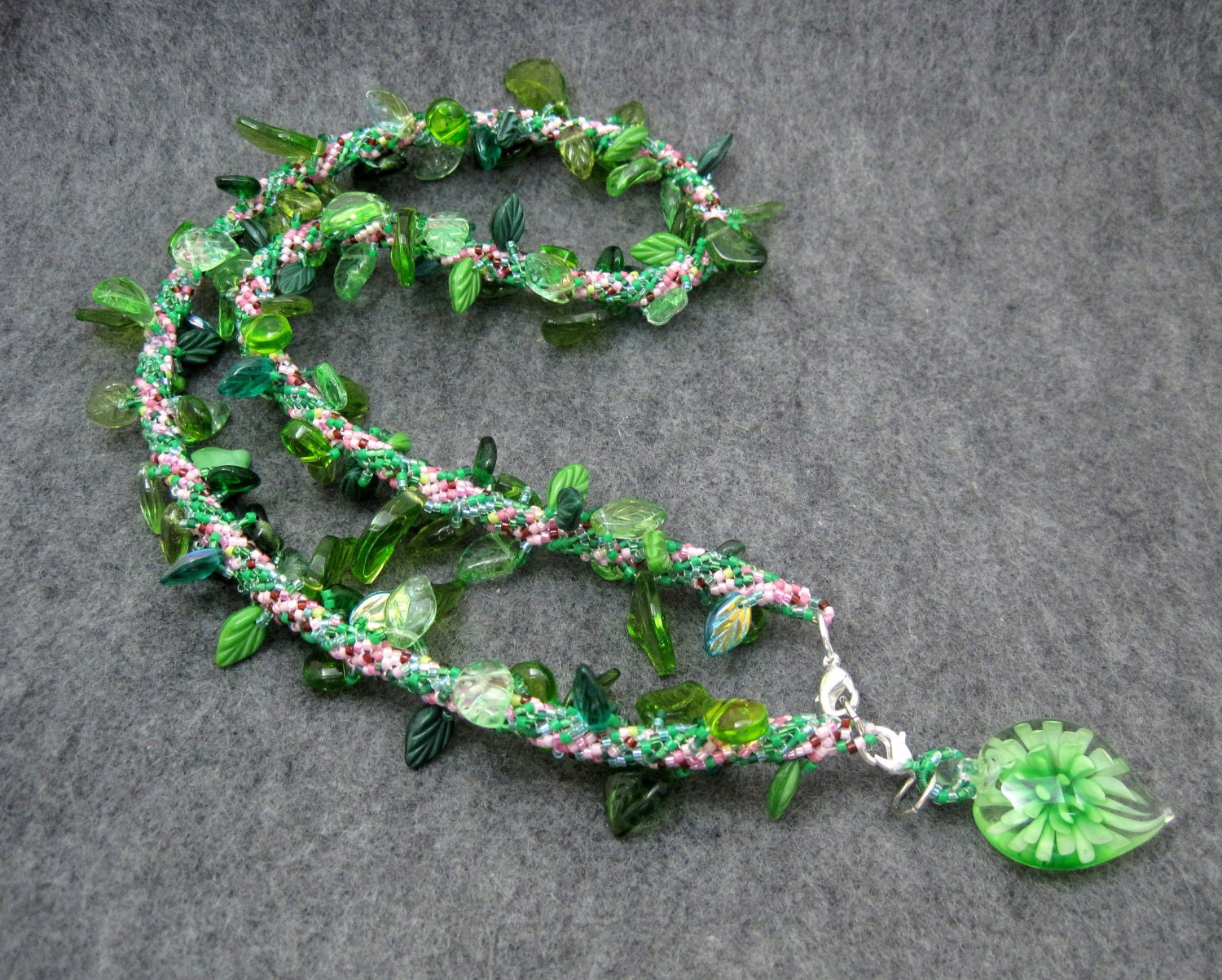 Voting for the EBW Challenge takes place
on the blog
today through December 15. Please check out all of the entries and vote for your favorite. If you can't see the clickable mosaic,
click here
.
Here's a look back at my other entries from this year. Click on any of the photos to see larger versions of them.
As part of the challenge aspect, I also created two brand new PDF patterns.
PROS
While some get a lot more than others, in general, my challenge items get tons of views and hearts.
Regardless of the complexity of my pieces, participating in challenges always brings a lot of traffic to my shop.
Every challenge that I've participated in has helped me to grow as an artist.
As already mentioned, these challenges push me to create higher-end pieces that I most likely would not make on my own. They are a wonderful showcase for my shop and for my inventory selection at craft fairs.
For 2011, I created a new line of right angle weave cuffs from this challenge. I also created two of the first pieces for my wrap bracelet/necklace line, which was a great sneak peek for my customers.
While patterns are a lot of work initially, especially on top of creating the challenge piece itself, they are lasting products for my shop. Having two new patterns is a great asset for my Etsy shop.
In August, my Strawberry Fields Forever Cuff placed 10th in the popular vote and 2nd in the private team vote, which was a huge ego boost. I have many of you to thank for that popular vote placement!
CONS
While my higher-end pieces get a lot of views, they don't sell very quickly.
I have had a couple sales from these new patterns, but not nearly as many as I hoped that I would. At least they aren't going anywhere and may take off at any point.
What's the plan for 2012?
My goal is to participate in at least 6 challenges in 2012. We start the BBA Challenges in January. BBA members have to participate in 6 of those per year so I don't want to burn myself out with too many challenges.
At least 4 out of those 6 EBW challenge pieces have to fit into current shop lines or must fit into my current shop style and average price point. One of my biggest goals for 2012 is to continue to narrow my shop focus. I will be growing my new wrap bracelet/necklace line and want most of my other new inventory to fit into existing lines with just a few one of a kind pieces in the mix. My challenge items have to fit into this equation.
While my EBW challenge items obviously have to have large portions of beadweaving, my BBA challenge items can be any medium. I may use some of them for shop pieces, but I will most likely be using many of them for other projects. While I love jewelry making, I don't want to burn out on it. Also, I will be expanding my craft fair inventory and craft fair display options in 2012, which will include many opportunities to meet BBA challenge themes.
I appreciate everyone's support with all of the EBW challenges this past year and looking forward to sharing my EBW and BBA challenges this next year!