I don't know about you, but I'm ready for March. A new month means that it's time to thank my Top Droppers and Commenters once again and let you know what's going on with my shop next month. This is a still a slow shopping season, but that doesn't mean that things have stopped around here.
TOP DROPPERS:
As always, Entrecard has had a few rocky days this month, but overall things have been pretty solid there. Here are the top 10 for February. Thanks so much to those of you who also take the time to leave me comments!
TOP COMMENTERS:
If you're new to this blog, you can check out my Top Commenters widget on the right side of my blog. Just scroll down to see where you rank. It's right under my blog roll. I will feature an item or give a shout out to everyone on that list in this monthly post. I really appreciate those of you who take the time to leave me feedback!
Thanks to Grace of
Dragon's Alley
for stopping by and commenting regularly! Here are some lovely items from the ladies on my list who have Etsy shops. Unfortunately, I couldn't include Margaret of
Splendid Little Stars
this month because she's on vacation, but she did make the list. We miss you Margaret and hope that you're having a great trip!
1)
Advice Book or Well Wishes Book for the Bride and Groom - SET OF 10
by
memoriesforlifesb
2)
Tennis Bracelet Blue Crystal - Summer Sky
by
BeadedTail
3)
Handmade Watercolor Doodle Book - Cherry Blossoms
by
storybeader
4)
Hungry Horse leaving nose prints on my window - OOAK ACEO - Original watercolor painting
by
tapestry316
5)
Sam the Song Sparrow - Wood and Fabric Bird Figurine
by
ABirdInTheHandArt
6)
Knit Purse with Shoulder Strap in Black and White Polka Dots
by
NFallonDesignStudio
7)
Purple Fairy Art - Fridge Magnet - Orange Butterfly Wings - Tribal Tattoo
by
aquariann
8)
Snowman with Bird Mug Rug
by
QuiltinCats
Sale Items and New Greeting Card Section:
My
"out with the old" sale
is still going strong.
When I ended my Valentine's Day promotion, I moved my greeting cards into
their own section
where I then added my new St. Patrick's Day cards.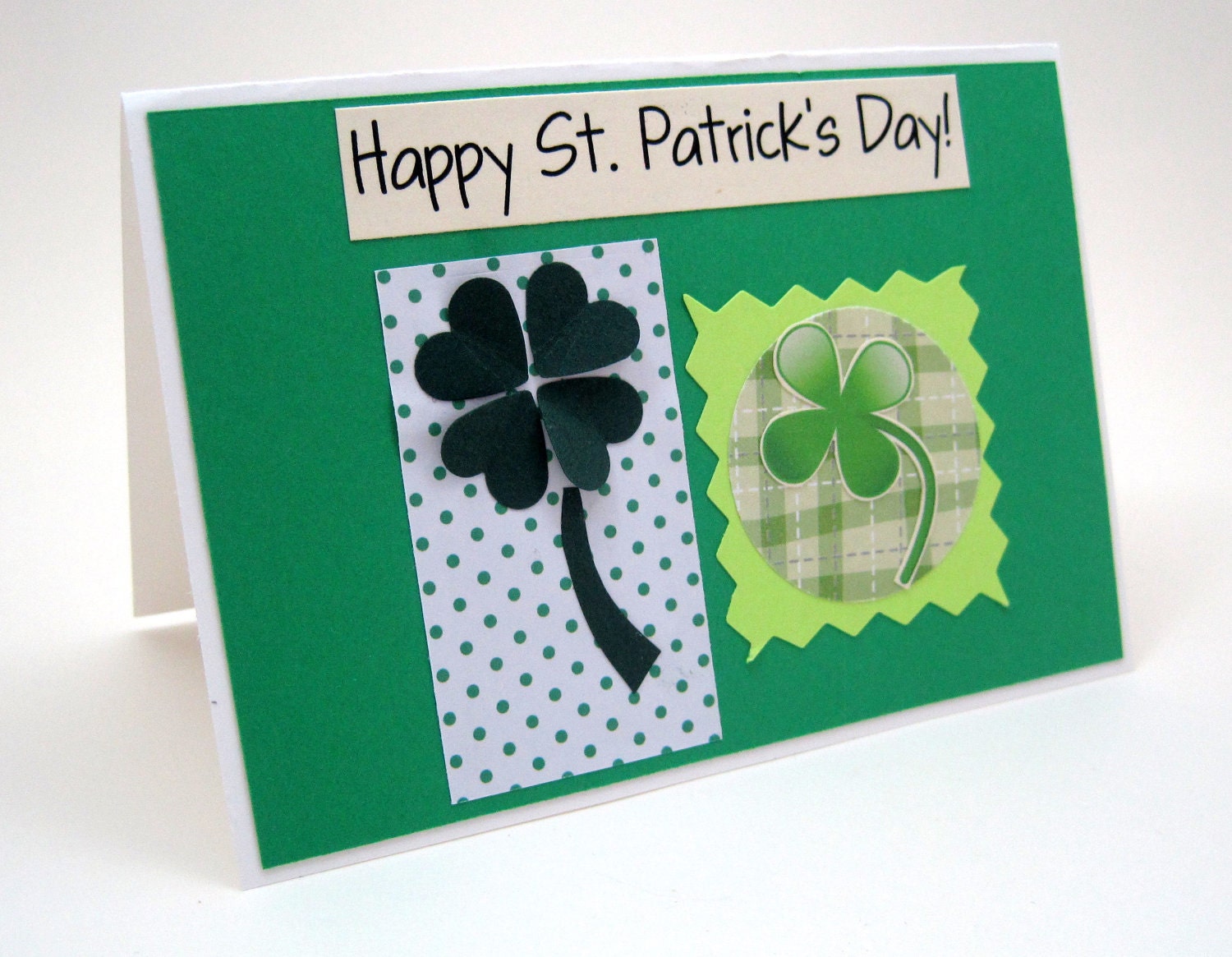 I am primarily listing seasonal cards on Etsy right now, but I'm planning to add some general cards over the next few months, too, such as birthday and wedding cards. If there's anything that you'd like to see, let me know.
Blog Sponsors and March Advertising:
I have an awesome round up of blog sponsors! These lovely ladies all have Etsy shops and/or blogs. Check them out on the left hand side of my blog under "Private Sponsors."
Would you like to join them? It's only
$3 per month or $10 for 4 months
to advertise with me now. Check out all of the details about it
right here
.
When one of the Bead Trends editors accepted my two pieces for early 2012 issues, she mentioned that they're looking for a lot of earring designs for the second half of 2012. I'm working on some brand new designs to submit.
I've started applying to spring and fall 2012 shows. If you haven't started scouting shows yet, it's not too early. I've already sent our three applications, have two more in the works, and have one in mind that I will fill out as soon as it becomes available in early April.
In anticipation of these future shows, I am continuing my push to make Christmas cards and fall sets (i.e. Halloween, Thanksgiving), all year. While jewelry sales are a little slow, it's a good time of year to focus on this.
What's going on with your business and or/blog for March?