Do you remember how I featured
summer buttons
on my blog last month? One of the artists that I featured also lives in the Milwaukee area. (She actually lives literally blocks away from me. It's a small world sometimes.) When she replied to my convo about the feature, she asked if I'd ever be interested in collaborating. If you've been following my blog and/or
shop
for a while, you know that I love to use handmade components in my jewelry.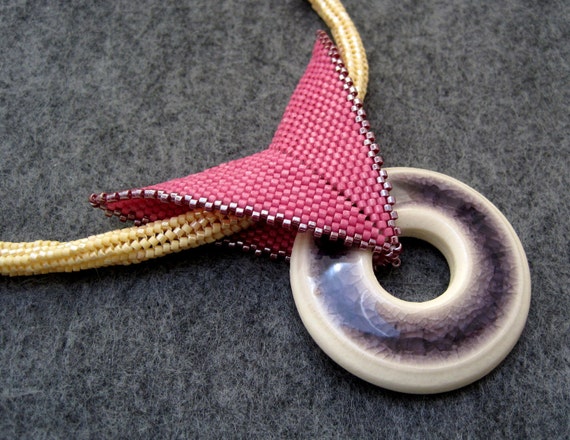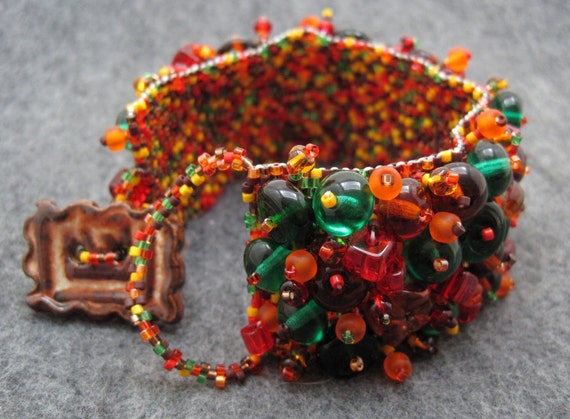 When I have the opportunity to collaborate with a talented artist and receive free items in exchange for promotion via blogging, social media, and Etsy, I'm not going to say no.
In no time at all, I received this lovely package. I was blown away. This was way more than I was expecting. That's a good problem.
There are so many possibilities for these lovely ceramic buttons. I've taken something of a jewelry making hiatus this summer, which has been a refreshing change of pace. I've been putting a lot of energy into keeping best sellers stocked this year, which was one of my
goals
for 2013, and it's been going well. I'm really ready for mix things up, though, and these new buttons will be the perfect excuse to do a little bit of that.
This batch of buttons has so many great colors. I feel drawn to start with one of the blue ones, largely because I have such a large stash of blue delicas on hand already. I haven't gotten a close up of that large red button yet, but it has the shape of Wisconsin etched into it (pretty cool, right?). The University of Wisconsin-Madison colors are red and white, and I'll most likely make a red and white cuff for the button. I've wanted to make some Wisconsin sports team color themed items ever since we moved here, and this will be an excuse to finally do a little bit of that, too.
This artist has very generously provided a 20% off total purchase coupon for me to share with my readers for her
Etsy shop
. Enter code
FaithAnnOriginals20
when you check out. Thanks, Faith Ann! I'll keep everyone updated on my new pieces with her lovely buttons.
Have you been doing any collaborations lately?