Welcome to another edition of the photo Scavenger Hunt and I Heart Macro!
1) Water Drops or Water Flowing
Ever since I found the Morton Salt Girl idea for my
Halloween costume post
, I haven't been able to get this idea out of my mind, and I will be doing it for Halloween this year. So excited.
2) Faithfulness
I have faith that these unfinished coffins that I picked up from Michaels for $1 each are going to be awesome for Halloween.
3) Then and Now
I often forget how far I've come with my photography during the past four years until I look at anything that I took during 2009 or earlier.
4) Fingertips
I rocked some Halloween inspired nails for my craft show over the weekend.
5) Bucket List Item
One of the
bucket list
items was to bake cookies. We love
this recipe
from Kristy at Sweet Treats and More.
Check out Ashley's blog to see what other people submitted for the themes this week.
Here is my shot for I Heart Macro this week.
I have been working on a lot of fall jewelry designs lately.
Finally, here is your weekly dose of Angel.
She loves to hang out with our living room furniture but peek out so she can keep an eye on the dining room and kitchen.
Where Else I Linked Up Today: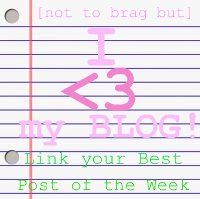 Newest article: